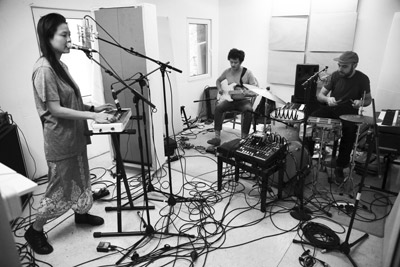 Audrey Chen, vox, analog electr.
Julien Desprez, guitar
Lukas König, drums, synth, vox

Mopcut präsentieren ihr Debut-Album "Accelerated Frames of Reference"
(Trost Records,2019)
Sie erschaffen ein Gebilde aus Geräuschen und Klängen , das die Hörerinnen
und Hörer vollständig umschließt und auf die Ohren ebenso intensiv wirkt wie
auf das innere Auge. So beschreiben Audrey Chen, Julien Desprez und
Lukas König ihr Trio-Projekt MOPCUT, das beim donaufestival 2018 seine
Premiere erlebte. Ihr improvisierendes Spiel ist jeglicher Gattungsbeschränkungen
ledig. Lukas König nutzt Schlagzeug und Synthesizer; Julien Desprez spielt
elektrische Gitarre; Audrey Chen überlagert die Sounds aus ihren Analogsynthesizern
mit ekstatisch extemporierendem Gesang. (Presstext )

Audrey Chen (USA) - VOICE, ANALOG ELECTRONICS
Recent projects, aside from performing solo, include her long running voices duo with
London based artist, Phil Minton, and duos with NYC abstract turntablist, Maria Chavez,
French guitarist, Jean-Yves Evrard, BEAM SPLITTER, with Norwegian trombonist,
Henrik Munkeby Nørstebø, the "romantic noise duo" AFTERBURNER with Doron Sadja
(electronics/light projections),e.a..
Julien Desprez (FRANCE) - ELECTRIC GUITAR
Evolving between sound art, performance and contemporary improvisational music,
his work today is centered around all the questions that exist within a stage space,
through body, space, sight and light, but where the sound remains the central pillar.
He played with Charlie Haden, Mats Gustafson, Jeanne Added, Edward Perraud,
Thomas Depourquery, François Jeanneau, Louis Sclavis, Stephane Payen,
Guillaume Orti, Benoit Delbecq, Tortoise, Han Bennink, Hubert Dupont, Rob Mazurek,
Jeff Parker, Frank Vaillant, Gilles Coronado, Marc Duckte and many more.
Lukas König (AUSTRIA) - DRUMS, SYNTHESIZER, VOICE
Born in St.Pölten, Koenig played with a variety of international artists such as
Reggie Washington, Briggan Krauss, Malcolm Braff, Jorge Sánchez-Chiong,
David Murray, Wolfgang Mitterer, Klangforum Wien, Jazzwerkstatt Wien, Maja Osojnik,
Wolfgang Puschnig, Shahzad Ismaily and many more.
Aside performing with bands like Kompost3, 5K HD, Koenigleopold and other projects
based in Vienna, he has developed a solo-concept, KŒNIG, which combines live-drums,
synthesizers and a rapping-voice simultaneously played and creates a live-performance
between Hiphop and Noise.

Beginn 20h30 Eintritt 15,-